If you spend a lot of time at storage unit auctions, tracking inventory and reselling items on your website, you're already incredibly busy. Using picreel popups on your website lets customers and prospects opt-in to receiving news from you — with little effort on your part. You can use pop-ups to provide instant coupons to boost sales, collect leads for your mailing lists, provide helpful guides and articles for customers, streamline signup processes for your workshops and events, and even get real-time feedback from site visitors.
And it's super simple to get started.
Pop-up Ideas For Auction Hunters And Resellers
Even if you've never used Picreel popups on your own website, you have no doubt encountered them on other sites. Think about the types of offers you've seen – discounts, free shipping, ebook downloads, sign-ups for email newsletters, etc. – and then think about what your customers would find helpful and valuable.
Here are some ideas to get you started, as well as some sample pop-ups for each offer!
New Inventory Email List – After every storage auction haul, snap some pictures of your new inventory and put together a quick newsletter to alert customers. This saves time for regular customers and those looking for specific items.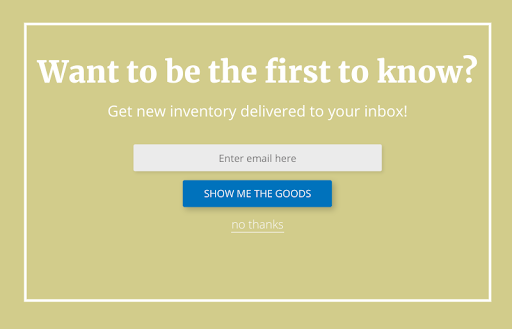 Niche Topic Mailing Lists – Many auction hunters and resellers have a niche (vintage Barbies, oil/gas paraphernalia, sports collectibles, etc.), and often have a following of customers who only want to know about these products. This pop-up would be similar to a new inventory one, simply inviting customers to join a mailing list to receive niche content from you.
Downloadable Tutorials and DIY Projects – If you specialize in reupholstering or painting furniture, restoring classic cars, or refurbishing old electronics, you likely have a following of customers who would like to learn from you!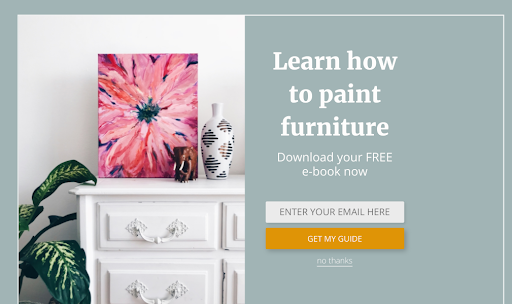 Notify Customers of Upcoming Events – If you participate in regular events, such as local flea markets or craft festivals, or if you host workshops (like furniture painting or car restoration), let your customers know where you'll be!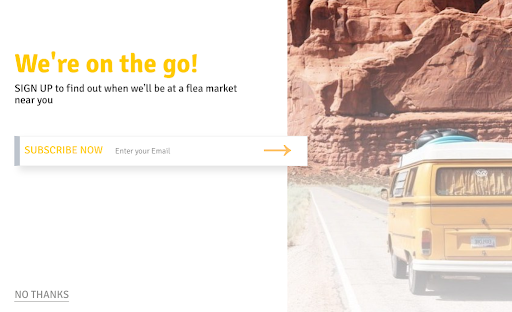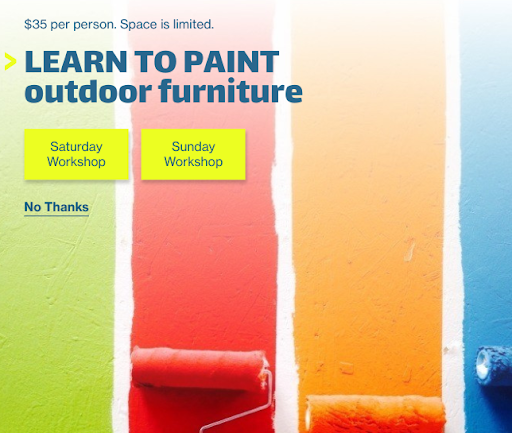 Sales, Promotions, Seasonal Discounts, Etc. – This one is pretty self explanatory! Whether your resale business is all online, or your website simply supports your brick and mortar store, you can use pop-ups to alert customers to online and in-store promotions.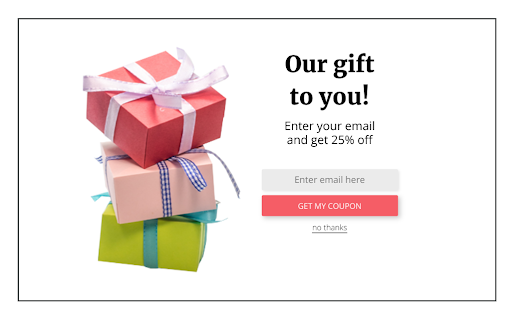 Contests – Contests are a great way to engage customers and motivate them to take some action. Keep it simple with a basic entry form, or make it fun with a photo or hashtag contest on your social media sites. Use a pop-up to direct website visitors to a page where they can read the contest rules and sign up.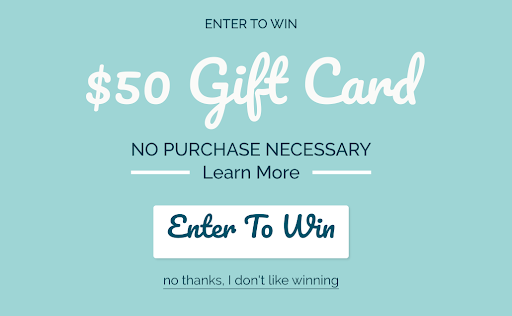 Get Real-Time Feedback – Picreel's ReelSurvey pop-up allows you to collect real-time feedback. Ask customers if they're finding what they need, what inventory they'd like to see, or what they think about your store, hours, and service.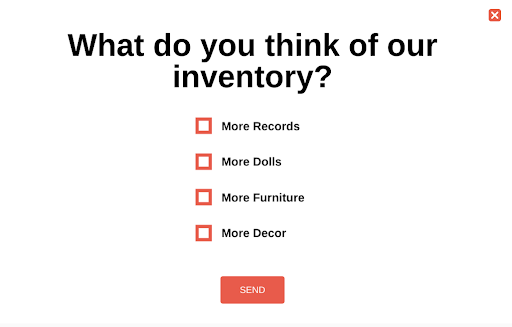 Beyond The Offer – What To Do With Picreel Leads
When a website visitor enters their email address on your pop-up, what then? Well, you have a couple options. You can manually download a list of email addresses from each campaign, and then email them the information personally. Or, you can connect Picreel to your email platform (MailChimp, AWeber, Constant Contact, etc). With the latter, every time you create a new pop-up campaign, you can tell Picreel what mailing list to automatically send leads to in your email platform.
If you are not using email to stay connected to customers, now is a great time to start! Today's email platforms are easy to use, offer attractive templates so you can drop your text in and hit send, and they have built-in analytics to show you how well your emails are performing.
While a single monthly newsletter is a great place to start, you can also create separate lists based on the types of offers we talked about above. This way you can send very specific and helpful information to customers depending on their interests: new inventory, niche topics, tutorials and workshops, contests, etc.
Get Started With Picreel In Minutes
Interested in seeing how picreel popups can help your business? Try Picreel FREE for 30 days – no obligation and credit card required. For a limited time, we'll even help you set up your account, create an offer your customers will want, and set up the pop-up on your site — for free. Contact us or call 888-891-5782 to learn more or schedule your setup today.